ABSTRACT
India being one of the major developing countries requires huge economic stability to flourish along with good foreign investment but after numerous failures in the Indian corporate sector like Satyam, Sahara, King Fisher etc. a bad image is portrayed in front of investors hence while making an informed decision relating to an investment in corporate investors are now being a bit reluctant. On the other hand, the government is in illusion, having expectations of more investment from investors along with MNCs for project fundings without building goodwill of corporate industry. This research intends to shed light on the importance of corporate governance standards in company success by examining the impact of a lack of full compliance with corporate governance standards and an appropriate code of conduct in the workplace.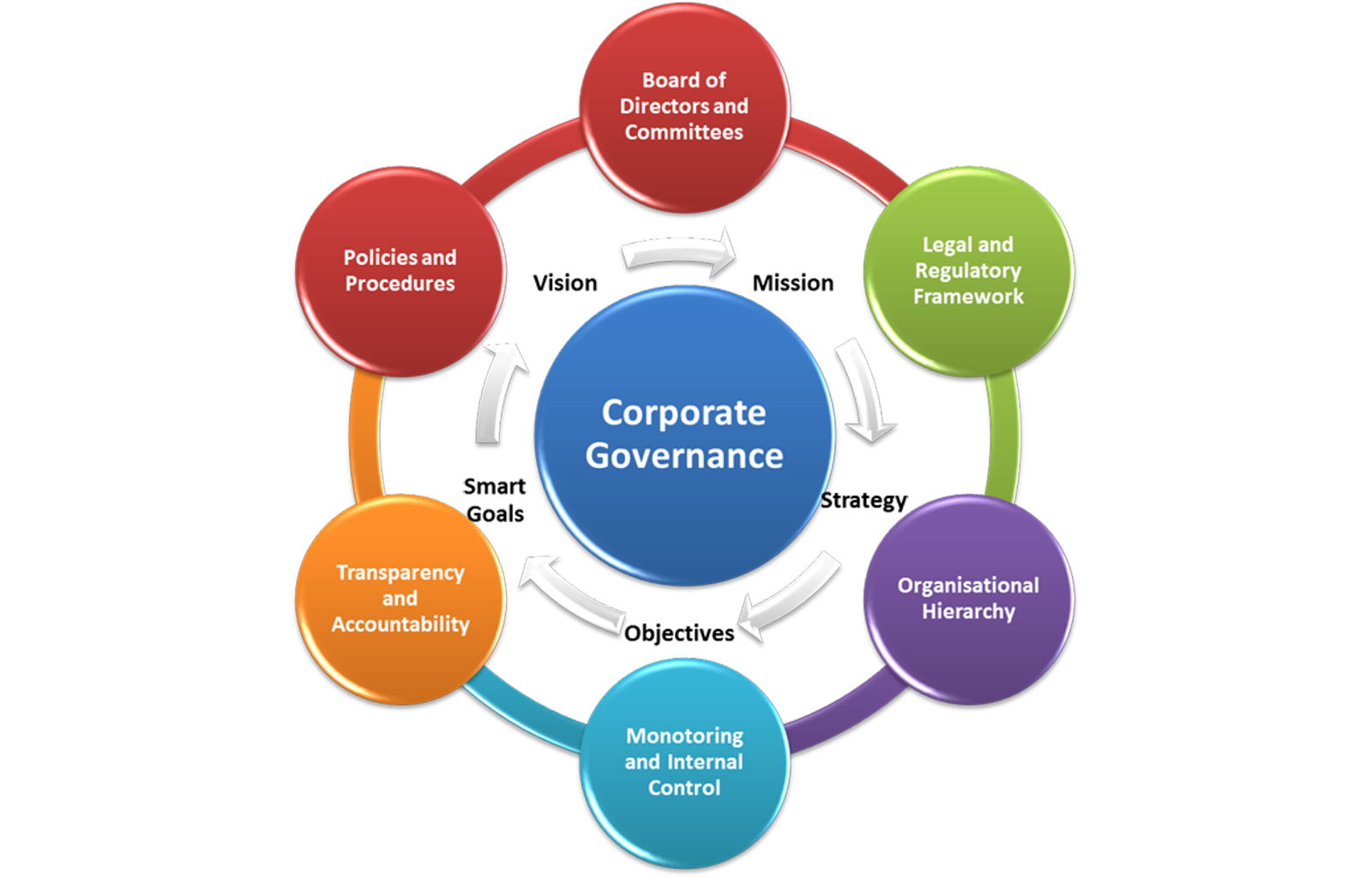 It has become quite difficult for any investor to assess how bad indoor management is in a company that appears to be in a sound system from the outside. In this study, the failure of DHFL is examined, as well as a few causes for its failure. The paper also makes some recommendations for how an investor should stay informed about a company's health.
INTRODUCTION –
"Global market forces will sort of those companies that do not have sound corporate governance".
–        Mervyn King
Corporate governance is a set of rules, processes, customs, policies, and laws that guide how corporate should operate. This governs the behaviour of individuals who operate behind the corporate veil and provide a way in which the company is controlled. A crucial part of corporate governance is that it determines the nature and extent of responsibility and accountability of individuals working in the management of the corporate thereby reducing the conflicts that arise out of it. It includes the balancing relationships between many stakeholders involved.
The reasons why Investors value corporate governance are because it demonstrates a company's direction and business integrity. It provides benefits in the development of trust among investors and the general public. Many shareholders believe that a company's profitability isn't enough; it must also validate good corporate citizenship through environmental cognizance, ethical behaviour, and sound corporate governance practices.
Directors of a company are entrusted with the fiduciary responsibility of managing the company's affairs in a fair and equitable manner, without gaining undue advantage for personal benefits. Governance requires ethical behaviour from those involved in management, with the public good taking precedence over all other considerations. As companies grew in size they were involved in multiple businesses and operations, necessitating accountability and transparency in the company's operations to make sure that those who had invested in the business remained informed and aware of how the company's funds were being managed thereby enabling them to make informed investment decision this all possible through incorporating corporate governance policy in the management system.
WHY ARE SHAREHOLDERS CONCERNED ABOUT CORPORATE GOVERNANCE?
It is critical for any investor to determine whether or not good corporate governance is being followed by the company in order to make an informed decision. As a result, before making an investment, the investor should educate himself on everything and subsequently, keep an open mind about the corporation's operations. For that, shareholders can ask the board for any information that is relevant to their decision-making process.
Boards should be prepared to answer a variety of queries from shareholders. Shareholders expect the chairman of the board of directors to be someone other than the CEO. Shareholders may also enquire about the number of other boards on which their board directors serve, so that they may ensure that each board director has enough time to dedicate to their responsibilities. Shareholders can rightly expect most, if not all, board directors to be independent at this time.
Shareholders may inquire as to how much stock each board director owns in the company, as well as whether the board and management have any conflicts of interest or interpersonal links. Shareholders frequently want to know how boards arrange management pay and how they disclose it, as well as how much the board itself earns. Shareholders will also want assurance that the board of directors did not authorise excessively lucrative stock options, which could erode their investment in the future.
They may also inquire about the audit committee's independence and whether any audits have been disputed[1].
Shareholders should be concerned about all important facts regarding the company in which they have invested or are considering investing.
In this world, almost every individual is striving for success and gives their best to achieve it. The desire of achieving success, few adopted wrong or short cut way, which may give good result in the short term but, in long run, it will inevitably fail. It is better to understand that to flourish forever in today's competitive world, especially in the corporate world fair, transparent, accountable and ethical practice is of utmost importance. However, one can learn from both aspects whether it is corporate success or failure. Therefore, we through some light on failure aspects and will discuss the reasons for the same –
CORPORATE GOVERNANCE FAILURES OF DEWAN HOUSING FINANCE LIMITED (DHFL)
One of the biggest frauds of 2019 is that of DHFL, which involves tampering with the company's books of accounts and again grasping everyone's attention on the corporate governance utility. It became well-known after breaking news from Cobra post, a journalism firm that covered the storey by raising the alarm about the financial scam. The true picture of this financial scam is revealed after examining documents available in the public domain.
This is an example of a well-planned scheme to steal government funds in broad daylight which is said to have a total value of more than Rs. 31,000 crores[2]. In this massive fraud involvement of primary promoters and their associates is apparent. It is found that thousands of crores of rupees in loans were given to dubious shell companies that were linked to DHFL's stakeholders through proxies and associates and without even scrutinizing the capability which is necessary before sanctioning loans to any new project.
"DHFL's Promoters have a structured a deal that has allowed them to borrow from two mutual funds and indirectly inject the money into DHFL which boosted its net worth. A higher net worth of DHFL, in turn, has increased its borrowing and lending capacity and also boosted its valuation[3]".
"The self-regulatory mechanism is clearly farcical. It may be observed that Kapil Wadhawan is a member of the risk management committee in DHFL. The person responsible for influencing a board's decisions about the company's policies with respect to risk monitoring is himself a party to siphoning off public funds to the tune of thousands of crores[4]"
"The finance committee holds the power to grant approval of loans above Rs200 crore up to prudential exposure norms as per NHB guidelines to any person, firm or body corporate at any time or from time to time and to grant approval for issuance of corporate guarantee/s by the company in favour of the body corporates as per the provisions of companies act and guidelines from the National Housing Bank (NHB)[5]".
"Kapil Wadhawan and Dheeraj Wadhawan are also members of the finance committee, and are directly in a position to influence decisions to grant loans by exerting influence. Guidelines of corporate governance provide no protection against people inclined to push their personal agenda, who may easily use their position to siphon public funds[6]".
After disclosure of this fraud "DHFL's stock dropped 38% in three sessions the stock market[7]". The scheme is a complete and total failure of corporate governance, and investors lose their trust as they didn't find any reason to trust working of corporate and expecting best practises as required by law. The investigation reviled "illegal insider trading, violations of SEBI takeover regulations, the creation of offshore assets for tax evasion, and money laundering". Along with this credit rating agency provide AAA rating and external auditor also unable to show true picture, this all also raise question on credibility of their reports[8].
RBI order to initiate IBC proceeding against DHFL and it became first non-banking lender sent to NCLT. "DHFL has a total debt of 85,000 crores, with 38,000 crores in bank exposure. The process has been overseen by a committee of creditors (CoC)[9]".
Dewan Housing Finance Corporation Ltd. NSE: DHFL
*All this negativity crosses the stock to crash and then the stock which was trading at Rs. 600 to 700, is currently trading at around 18 Rs. – Presented in above Chart.
SUMMARY OF FACTS WHICH CREATE DOUBT IN THE MIND OF INVESTORS;
"DSP mutual fund sold Rs. 300 crores of DHFL NCD in the secondary market in 2018[10]".
"Cobra post alleged DHFL promoters siphoned off about 31000 crores through a shell company in 2019.
DHFL stopped accepting the fixed deposits, along with stopping premature withdrawals from existing fixed deposits on hold.
Delayed interest payment on its bonds and bond repayment worth Rs. 960 crores due on Jun 4, 2019.  Because of which Credit Rating agency downgraded credit rating on commercial paper of DHFL to 'D' (Default) owing to liquidity concerns[11]".
According to Cobrapost, the aforesaid example demonstrates a complete and total failure of corporate governance (CG), and there is no possibility to even pretend that corporations are trustworthy and can commit to industry best practises as required or expected by law.
REASONS OF CORPORATE FAILURE OF DHFL: –
"Shareholder value gets lost when things are done illegally, when corporate governance is not adhere to, when cohesive action is not taken". – Cyrus Pallonji Mistry
This case represents weak indoor management, manipulation of books of accounts and huge insider trading behind the corporate veil in which management working for own benefit, not for company. Thus, no strong monitoring system was there to identifying suspicious activity.
Despite violations of SEBI regulations, forged and falsified documents, loan sanctioning without scrutinising risk associated with it, and other violations, no independent director or external auditor raises objections or give adverse remark, demonstrating a failure to comply with corporate governance system, which is the primary cause of its failure.
Corporate governance also requires the establishment of a strong whistle-blower policy, which is again lacking in this case, because if a strong whistle-blower system existed, any internal member would have raised their voice against unethical practises before outsiders, as it was revealed after the report of the cobra post or other suspicious information available on public domain.
The company's director has a fiduciary responsibility[12] to the company, and independent directors, credit rating agencies, and external auditors should act as watchdogs, must act promptly when suspicious activity is discovered. As a result, in this case, the failure of all vigilant mechanisms resulted in a huge loss to investors, ultimately to the economy, as well as a loss of investors' confidence in the corporate system.
SUGGESTION AND CONCLUSION –
As it is self-evident that if we want to remain in this competitive market we can't resist adopting changes. To flourish in the international market, we need to improve our policy, technology, and business strategies. One of them is a good corporate governance policy as well. In this article, we have seen a few prominent examples which show if you don't have an appropriate well structured corporate governance policy then failure is just a step away and success will be beyond the mountain's peak. From the above examples, we should learn what not to do to avoid failures as once a wise man said "A successful example will only tell you what to do whereas hundreds of failures will teach you what to avoid". Also one should act promptly after finding wrongful activity and follow proper indoor management and compliance. Apart from management, today's corporations must be vigilant about social responsibility, as the tremendous growth of this sector also affects society at large. All of this is ensured by good corporate governance, which will boost the growth of the Indian corporate sector in this contemporary time.
_____________________________________
Research Paper By – Kritika Sharma 
Symbiosis Law School, Nagpur
_____________________________________
[1] Final Rule: Audit Committee Disclosure. (n.d.). Retrieved from https://www.sec.gov/rules/final/34-42266.htm.
[2]  (2019, January 30). The Indian Express. Retrieved February 21, 2022, from https://indianexpress.com/article/business/cobrapost-report-accuses-dhfl-of-siphoning-off-more-than-rs-31000-crore-of-public-money-5560377/.
[3] basu, D. (2018, December 11). How Loans to Promoters and Poor Disclosure Was Used To Boost Net Worth, Loan Book and Valuation of DHFL. Retrieved from https://www.moneylife.in/article/how-loans-to-promoters-and-poor-disclosure-was-used-to-boost-net-worth-loan-book-and-valuation-of-dhfl/55885.html.
[4]  BAHAL, A. N. I. R. U. D. D. H. A. (n.d.). DEWAN HOUSING FINANCE CORPORATION LIMITED- THE ANATOMY OF INDIA'S BIGGEST FINANCIAL SCAM. Retrieved January 29, 2019, from https://cobrapost.com/blog/biggest-financial-scam/1373.
[5] The National Housing Bank Act, 1987. (1987, December 23). Retrieved from https://www.nhb.org.in/Regulation/NHB-Act.pdf.
[6] IANS. (2020, August 17). Dheeraj Wadhawan owned 44 companies of Wadhawan group: ED. Retrieved from https://www.sify.com/news/dheeraj-wadhawan-owned-44-companies-of-wadhawan-group-ed-news-national-uirm4Daedadhe.html.
[7] Jhunjhunwala, R. (2019, June 7). Retrieved from https://www.business-standard.com/article/markets/rakesh-jhunjhunwala-lic-see-38-dent-in-portfolio-value-due-to-dhfl-crisis-11906.
[8] Zee, IL&FS, DHFL, R.Com: How rating agencies have let us down repeatedly. (2019, May 8). Retrieved from https://economictimes.indiatimes.com/markets/stocks/news/zee-ilfs-dhfl-rcom-how-rating-agencies-have-let-us-down-repeatedly/articleshow/69230841.cms?from=mdr.
[9] The Economic Times. (2019, November 21).
[10] Upadhyay, J. p. (2018, November 23). Sebi begins probe into DSP Mutual Fund's sale of DHFL bonds. Retrieved from https://www.livemint.com/Money/LV09uZKEeNuj59oHjuU7CI/Sebi-begins-probe-into-DSP-Mutual-Funds-sale-of-DHFL-bonds.html.
[11] IANS. (2019, January 29). DHFL siphoned off Rs 31,000 crore of public money, claims Cobrapost. Retrieved from https://news.abplive.com/business/dhfl-siphoned-off-rs-31000-crore-of-public-money-claims-cobrapost-907087
[12] FIDUCIARY DUTIES OF THE BOARD. (n.d.). Retrieved from http://bombaychamber.com/admin/uploaded/Reference%20Material/Reference%20Material.pdf.
#corporate #governance #dhfl #aklegalassociates #criminallawyer #lawyer